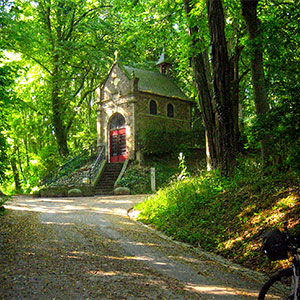 Sittard in South Limburg was the halfway point in today's 61 km cycle ride.
I left home again before 0700 in order to avoid the high temperatures forecast for later in the day.
After stopping for breakfast on the green at Geleen I started to head back home via Kollenberg.
This is a very steep ascent with overhanging trees creating a dark tunnel effect, even on this bright sunny day.
Today's featured image is of Sint Rosa Kapel, perched high above a crossroads in the forest tracks at the top of Kollenberg.