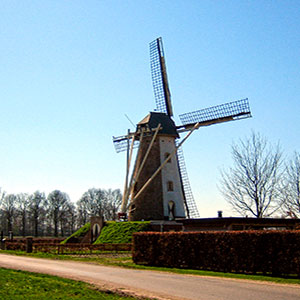 Just a quick spin around the block today.
It's great how rapidly I can get out into the countryside from the centre of Weert and during today's 18.2 km cycle ride, I was never more than about 8 km from home.
I'm fascinated by the many windmills in the Netherlands, of all shapes and sizes, made from wood, brick or stone and I don't have to travel far before finding them.
The first today was a magnificent example in the hamlet of Roeven and the second was a very substantial brick built windmill amongst the houses in Swartbroek.
Many of these windmills are still operational, as working museums and some are homes as well.
The remainder of today's ride was the reverse of another ride I did recently, and once again I came across ponds with many species of waterfowl that I've never seen before and could certainly never identify.