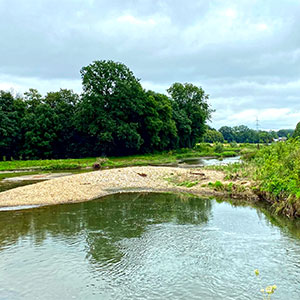 Thursday's 56 km cycle ride was a great loop to the north and east of Heerlen.
Much of the ride was on roads and cycle paths familiar to me, but when ridden in the opposite direction to previous times everything seems different.
After about 36 km I joined the cycle path on the banks of the Wurm river near the German village of Suggerath.
For the next 10 km I cycled along the side of the Wurm until Rimburg where we parted company.
The Wurm river rises in the forests near Aachen and winds it's way for about 57 km until it discharges into the Rur near Heinsberg.
The name of the river originates from the German word warm, which has the same meaning in English.
Apparently the source waters were warmed by thermal springs in the Aachen area.
I enjoy riding river banks or canal banks, there is always something interesting to see, no matter how many times you pass by.