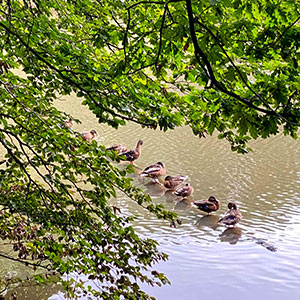 August has been a fairly intensive cycling month so far.
I have already completed ten rides totalling 522 kilometres.
Therefore today was designated a 'rest day' from cycling.
The damp weather this morning also suggested that it was a good decision to stay at home.
By mid-morning I had completed all the things I needed to do at home and was really tempted to get out on the bike for a while.
But for some reason I decided against this and opted for a walk instead.
Grey clouds overhead threatened rain and the wind was gaining speed.
Despite this I left for what turned out to be a great 11.38 km walk to the Cranenweyer reservoir area in the Anstel valley, between Heerlen and Kerkrade.
This was also the destination for my very first cycle ride this year, on January 10th, and I've not been this way since.
Today's featured image is from the edge of the reservoir where I spotted a group of very well organised ducks, all in a row, on a submerged log.
My legs ache in different places and I'm looking forwards to getting out on the bike again tomorrow.