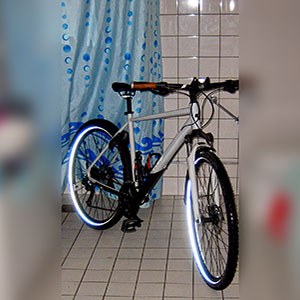 I like to keep things clean, especially my motorcycles in years gone by and now my lovely new cycle.
'Sonja' has only been with me for 12 days and we've already cycled over 380 km together, along back roads, canal paths and forest tracks in all weather conditions including a little rain.
Therefore a little dust & dirt has settled on my otherwise sparkly new cycle and I don't like that at all!
The problem with living in a fifth floor apartment is the lack of a proper place to wash the bike. At street level there is a secure cycle garage at the apartment block but with no washing facilities of any kind.
I've never parked 'Lisa' or 'Sonja' there anyway preferring to take them up in the elevator and store them in the spacious hallway of the apartment.
Then I had the idea of washing the cycle in the shower; we have a very large wet room so, for me, it is the perfect solution.
I spray warm, soapy water all over the cycle, leave it a while to loosen the dirt then rinse with the hand shower which has the perfect pressure for the task.
After about ten minutes I'm left with a perfectly clean cycle, all ready to take out and get dirty again….