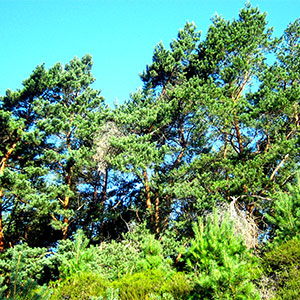 My 105 km cycle ride today started before 0600, took me across the Maas by ferry, over the border into Germany and through the extensive nature reserve at Brachter Wald, near Bruggen in North Rhine-Westfalia.
Brechter Wald extends over 1300 hectares close to the border with the Netherlands and has been a designated nature reserve since 2000.
Between 1948 and 1996 the whole area was occupied by the British Army of the Rhine and became the largest ammunition depot in Europe.
Today, there is still much evidence of the former usage such as disguised bunkers, dismantled railway lines and an extensive network of roadways and paths.
There are also numerous walking and cycling routes throughout Brachter Wald but all motor vehicles are prohibited making this a very safe and peaceful place to visit, explore and enjoy.
As soon as I made my way through the special cycle/pedestrian gate I could see various raptors swooping around the treetops and a little later I came across a substantial herd of reindeer less than 50 metres from the roadway.
My ride today through Brachter Wald was over 10 km and it's clear there is so much more to explore another time.
I also experienced longer and steeper hills today than I'm used to but managed all of them without any problems.
The return journey was uneventful but with temperatures over 26 degrees it was hard work towards the end of the ride.