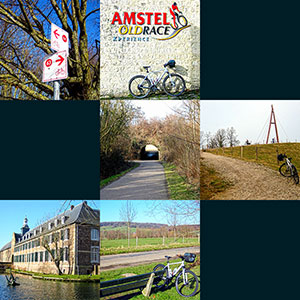 February has been another month of extreme winter weather conditions here in the Netherlands.
This has, of course, severely impacted on my planned cycling activities.
I am, therefore, extremely grateful to have enjoyed six cycle rides in February, totalling 251 km and elevation gains amounting to 2357 metres.
My longest ride was 57.9 km to Teveren and the greatest elevation gain was 526 metres, also on the ride to Teveren.
There are 107 new images in my galleries here and the February collection of rides is here.
My Autumn/Winter goal of cycling 2500 km between 1st October 2020 and 31st March 2021 now stands at 1732 km completed or 69% of the target.
With just the month of March remaining, I have the somewhat daunting prospect of cycling another 768 km to reach my goal.
The weather will play a significant part in me reaching this objective so we will just have to wait and see how the month progresses.
I put the non-cycling time in February to good use. I strip cleaned the bike to get rid of around 1 kg of mud that had stuck itself to the insides of the mudguards and the underside of the frame.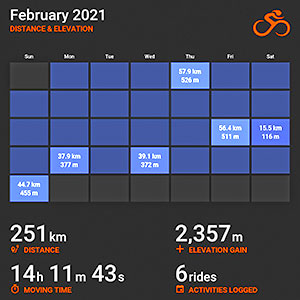 On a bike so light this represents losing around 10% of it's weight, the benefits of which I felt immediately on the next ride.
In other news, for the first time in my cycling life, I've decided to wear a cycle helmet.
Since moving to Heerlen and exploring the rather hilly terrain in these parts I find that I'm sometimes moving a lot faster, on the descents and with that comes the increased risk of a high speed tumble.
Also, riding the many forest trails is not without it's dangers, from low-hanging branches and hidden tree roots making riding especially challenging at times.