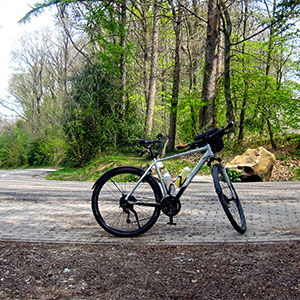 The 53 km I rode today was probably the hardest cycle ride I have ever done.
I decided to re-visit Vaalserberg, the highest point in the Netherlands.
Measuring 322.4 metres above sea level, it is also where three countries meet.
Drielandenpunt is where Germany, Belgium and the Netherlands meet, and at the highest point there are two prominent observation towers.
My ascent of Vaalserberg was in the opposite direction to the route I took last year and it seems that I found the steepest possible roads out of the nearby town of Vaals.
I had to stop more than once on my way  to the top but it's enormously satisfying not having to walk and push the bike!
Once over the top and heading down into Belgium it started to rain and the bitterly cold wind was right in my face for most of the ride home.
There are quite a few photographs of the beautiful Limburg countryside today.
These seem directly proportional to the number of times I had to pause for breath whilst climbing some of the steepest hills.
The combination of hills, weather and my lack of peak fitness certainly made this an extremely challenging cycle ride, but still thoroughly enjoyable.