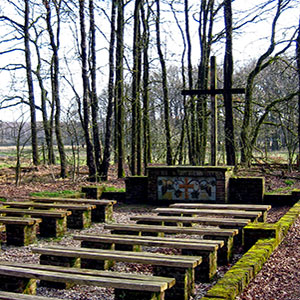 After three weeks without recreational cycling, it was great to get out again today in warm spring sunshine.
I headed north away from Weert to the woodlands at Weerterbos & Hugterheide where I paused for thought at the open air chapel on the edge of the trees.
It really is so peaceful here, you'd never think its only a few kilometres from a large town & the motorway to Eindhoven.
I then looped back home via Budel and the Blue Lake.
Today's ride was  33.5 km.
With much of the Netherlands closed for business because of the corona virus/Covid-19 pandemic it's hard to know how much more I'll be able to get out & about on the bike.
It's very much a constantly changing situation and I will, of course, continue to follow Dutch government instructions/advice regarding freedom of movement within the national borders.