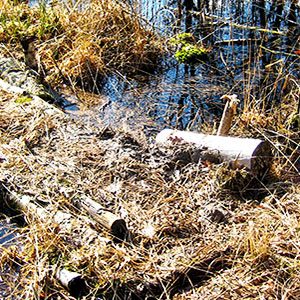 Today's cycle ride was quite short (29.1 km) but extremely challenging.
After leaving Weert by a fairly indirect route through the industrial park and along canal banks I found myself on the edge of Weerterbos, an area of dense woodlands a few km to the north of the city.
I've been this way a few times before but today I took an unfamiliar turn and before long the paved road became unpaved, then bumpy track, followed by a very muddy grass bridleway, followed by….absolutely no identifiable track at all.
I'm now about a kilometre from the last paved road, in amongst an extremely waterlogged peat bog (Veenmoerassen), with no apparent escape route. My feet/legs are wet and muddy plus my newly washed bike is filthy dirty again.
It was impossible to cycle here, to both sides of me were drainage ditches overflowing with almost black, peat stained, water and the only indication of any kind of route forwards was a continuing gap in the trees.
On a more positive note the sun is shining and the trees are offering reasonable shelter from the very strong, gusty winds I've had to contend with since leaving home.
Both my map & the GPS on my phone are confirming there really is a track here and as I seem to be right in the middle of this particular peat bog I decide to carry on rather than retrace back to dry land.
The terrain here consists of waterlogged peat bogs with fallen trees laid together to form wobbly bridges over the apparently deep wet areas, joining the raised, less wet, areas forming a vague route through the trees.
I'm having to carry my bike on my shoulder in places, just like a cyclo-cross rider because there is no room for me to walk and push the bike beside me. Ahead and to the right I can hear human voices and with the wettest of the route behind me I head for the voices, the edge of the woodland and open ground beyond.
After jumping over one last narrow, flooded drainage ditch with my bike on my shoulder I arrive at a paved track which seemed familiar and to my left were a couple of other cyclists and three cars parked near the WW2 memorial at Colusdijk, where I'd been before.
Here I sat on the wooden bench, in warm sunshine, totally exhausted from the last 2.5 km of rough cycling, walking, stumbling and carrying a 21 kg bicycle on my shoulders.
At least I had the wind behind me for the ride home.